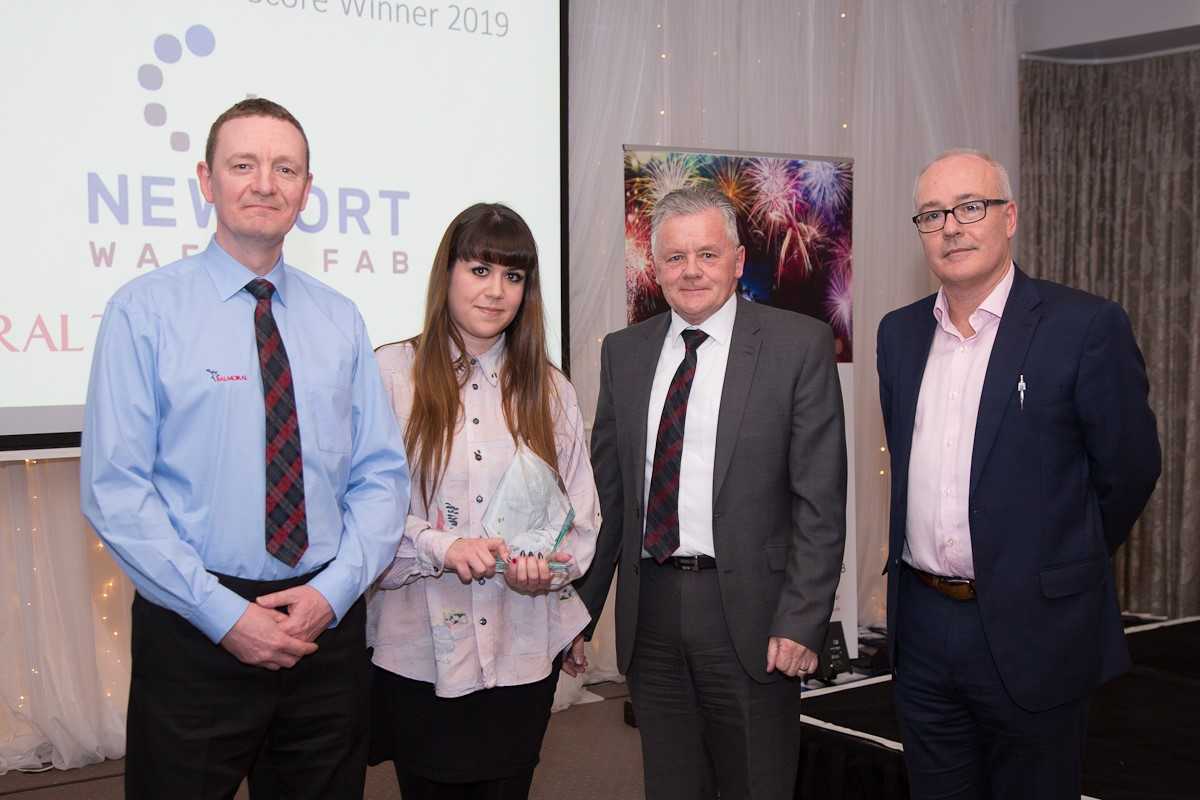 MEMBER PRESS RELEASE: Quality awards underpin Balmoral Tanks ambition
Llantrisant-based Balmoral Tanks was recognised at the prestigious Wales Quality Centre's 30th anniversary awards ceremony recently. (23 January 2019).
The event was a celebration of all companies that have been recognised by the organisation during its 30-year existence – Balmoral Tanks was joint winner of the Wales Quality Award in 2016.
The prizes are based on the European Foundation for Quality Management (EFQM) business excellence model and are a rigorous, independent analysis of an organisation's ability to achieve sustainable excellence.
In what proved to be a memorable day for the company, Balmoral Tanks received two awards at the event. These were the 'Recognised for Excellence' trophy in the 'Best Newcomer Ever' category and outright winner in the 'Highest Score Ever' class.
The awards are seen by the company as just reward for the commitment to quality shown by its employees at the Llantrisant operation.
Managing director, Allan Joyce, said:
Quality is a given in most markets now; it is not a differentiator any longer. However, in simple terms quality must embrace every aspect of your business from the front end via your sales team to the back end via your service team, in other words, everyone working as a team and pulling in the same direction.

 

To receive these awards spells out that here at Balmoral, quality is not just reflected in the goods we supply, it's an attitude that permeates our entire business; a complete, compelling and endless philosophy.

 

The products and services that we provide, not only here in South Wales but at our other facilities too, are recognised as being world-class. When this is underpinned by a highly trained and motivated workforce it is a formula for long term success.
The company is currently refurbishing its Llantrisant facility and investing a further £10m in a glass fused to steel manufacturing line at its South Yorkshire plant to complement the epoxy coating plant already in place there.
Mr Joyce concluded:
We are positioning ourselves as a full-service tanks supplier to the water, wastewater, processing and anaerobic digestion sectors.

 

With recent acquisitions and internal restructuring, we now offer turnkey packages that include tank design consultancy services, manufacturing, civils groundwork, installation, pipework, commissioning and after sales maintenance.

 

This promises a very exciting future for everyone associated with Balmoral Tanks at Llantrisant and further afield.
– ENDS –
Pic: WQC awards identify Llantrisant's Balmoral Tanks as a world-class manufacturer
Notes to editors
Balmoral Tanks is a division of Balmoral Group Holdings Ltd which is a privately-owned company headquartered in Aberdeen, UK. The Group comprises a number of distinct business units and divisions including Balmoral Tanks, Balmoral Offshore Engineering and Balmoral Park.
Employing over 600 people the Group has been providing solutions to the building, civil and environmental engineering, energy, marine, polymer engineering and processing sectors since 1980.
Press contact Steve Gibb, Group Public Relations Manager, Balmoral Group. T +44 (0)1224 859000 M +44(0)7702 371543 E s.gibb@balmoral.co.uk