ADBA gives direct support to AD operators, plant managers, plant owners and developers. We provide our own expertise and facilitate collaboration amongst experts, officials and peers. For more details and to get involved, contact Tasneem.Mayet@adbioresources.org.
Free Information Sessions
We organise group meetings in-person locally where possible and online for local and national audiences. Experts present on latest trends and analysis. We encourage operators to ask questions and troubleshoot with regulators, ADBA staff and each other prior to, during, and after the event. Be sure to check our events listings regularly. Or sign-up to our mailing list.
Site Visits
Our team travels to AD plants around the UK and overseas to exchange best practice and develop relationships.
Networking with Services and Suppliers
ADBA matches operators with service providers, product suppliers and feedstock suppliers. Operators can proactively search through our membership lists. We also set up events, such as our annual World Biogas Expo, where suppliers exhibit their ware and foster relationships, and we manage a "Feedstock Finder" service.
Working Groups
We gather operators to tackle industry issues and promote their voice to policymakers. For each topic, we assemble a Working Group, such as: Agriculture; Food Waste; Digestate; Biomethane-to-Grid; Training, Safety and Environment Management (TSEM); and Water.
Training
ADBA's network of experts put on courses on the latest and most salient topics, such as digestate, health & safety, plant optimisation, clamping and feedstocks.
Best Practice
ADBA founded the Anaerobic Digestion Certification Scheme (ADCS). This is unique in that it assesses the all-round safety, environmental and operational performance of AD plants. It encompasses all our work on improving standards in the industry and ensuring best practice.
Incentives
The AD sector has tremendous potential for carbon abatement in the hardest to decarbonise sectors. On behalf of AD plants, ADBA lobbies to Government for subsidies in heat, electricity and transport.
Regulations
Our specialist team dissect the latest regulations, ensuring our members understand and comply. We also gather member insight to influence regulatory consultations.
Tendering
AD operators and developers, institutions and local governments open up projects for our members to bid for business.
Benchmarking
By gathering and anonymising data, we create snapshots of industry trends and forecasts. For example, we are currently collating and analysis a range of digestate data and can benchmark participants submissions against our data.
The AD Certification Scheme (ADCS) is the only certification scheme in the UK that assesses the all-round safety, environmental and operational performance of anaerobic digestion (AD) plants. It is a key element of ADBA's best practice programme, which encompasses all our work on improving standards in the industry. The Scheme provides an independent audit process and report, which is a useful tool for operators to ensure they are meeting required standards and identify how they can improve. Developed by ADBA with extensive engagement with industry stakeholders, it aims to support the industry to be a mature, safe and thriving sector that delivers consistently excellent projects and continued professionalism.
ADBA's network of experts put on courses on the latest and most salient topics. Here are examples of our recent training and Learning & Development events, many of which are run annually:
Digestate
In this Learning & Development event, attendees  considered how digestate is more than an inevitable by-product of the anaerobic digestion process. Really, it can be turned into an asset that can cut costs and even drive profits. The group found out about digestate uses, effects on soil, land-banking, enhancement technology, appeal to farmers, agronomy, post-harvest applications, regulations and ammonia emissions. Attendees heard directly from industry experts and learned from case studies.
Health and Safety
This training course was designed specifically for AD plants and intended to cover all key areas of plant Health and Safety. It included hazardous substances; machinery and equipment; electrical safety; transport safety; people and training and much more, — plus an understanding of the legislation and regulations that need to be adhered to.
It was ideal for any and all operatives and staff involved in the AD process, and many AD plants in the UK provide this course to all their staff as part of the induction process. A certificate was issued to all attendees that completed the course.
Plant Optimisation
This training was aimed at anyone interested in improving their knowledge and understanding of the AD process, in order to increase output and process stability. It was about getting the most from your AD plant, by understanding, monitoring and finetuning the processes involved. This was to help minimise problems and downtime.
It was appropriate for all operators, owners, managers and anyone involved in the AD process.
Clamping
This Learning & Development event addressed the whole process of clamping, from planning and monitoring feedstock, to filling and covering effectively, safely working the clamp, to emptying/feed-out dos' don'ts and special equipment. The event also addressed contract management and environmental issues.
Feedstocks and Coronavirus
During coronavirus surplus production and novel waste streams became available for the AD industry. Our course explained issues with accepting these feedstocks and why they have arisen. We also gave advice on what to do if your feedstock has decreased. With AD a central part to the circular economy and waste hierarchy it is pivotal for processing organic streams that cannot be used for human consumption or animal feed. Our farming, academia, AD consultants and regulator speakers from our full training days explained where, what, and how this will impact optimisation including biochemistry, heating, energy generation and digestate.
Recent Training and "Learning & Development" Events…
We gather stakeholders to tackle industry issues, find out the latest developments in the sector and directly influence government policy and regulation. For each topic, we assemble a Working Group. These can be either AD operators only or open to operators and suppliers or open to certain disciplines, such as finance. Officials attend some Working Groups sessions, for example from BEIS, Defra, EA, HSE and WRAP. Interested in joining? Fill-in the form below.
Carbon Intensity of Biogas working group
Strategy segments: Policy and Technology
Description: As the UK strives to net zero, there is a growing demand from both public and private sectors to demonstrate any carbon savings delivered. Considering AD's ability to decarbonise across multiple sectors, this working group will explore how these sources of carbon savings may be attributed to biogas and quantified within the fuel's carbon intensity (CI). If the heat and transport sectors are to meet their decarbonisation goals, the CI of energy used must be considered. The market for BMCs already reveals that biomethane with lower CIs command higher prices. This valuation is forecast to increase further, presenting a critical opportunity for biogas to shake its dependence on subsidies.
Suggested aims:
To discuss methodologies used to calculate CI of biogas (e.g. REDII, LCFS)
To explore how CI is current valued in the voluntary and compulsory markets, and how this might change in the future
To assess risk of double counting carbon savings and identify ways of preventing it from occurring
To establish if and how bio-CO2 utilisation and storage may affect the CI of biogas
To better understand the CI of bio-hydrogen (with/out CCS) and its potential role in net zero
Suggested deliverables:
Assessment of the methodologies used to calculate CI of biogas, identifying all factors considered and their relative impact on CI
Establish a range of carbon intensities expected from different feedstocks (low / average / high)
Identify cost effectiveness of production utilising feedstock costs and carbon/energy prices
Develop infographic displaying key findings and present to BEIS and DfT
Expectations: Project plan, to be responsible to making sure everyone sticks to tasks and timeframe
Food Waste working group
Strategy segments: Standards and policy
Description: We are at a pivotal moment of waste policy with the imminent release of the outcome of the consistency consultation and the rollout of separate food waste collections. The industry faces a number of challenges as part of this rollout, including regional capacity levels, concerns around feedstock security in conjunction with the GGSS timeframe, and a need to reduce plastic contamination in digestate.
Suggested aims:
To facilitate industry response to the rollout of separate food waste collections
To address capacity concerns and facilitate industry response to separate food waste collections for the benefit of the AD industry so as to not promote over development leading to unfavourable market conditions
To facilitate valorisation of digestate by tackling one of the key factors inhibiting its uptake – plastic, and work towards the elimination of plastics being spread to land via digestate
To disseminate developments in understanding on plastics contamination and understand the implications for the industry
To coordinate ADBA's response to food-waste policy consultations
To identify and promote best practise from across the industry, highlighting strong local authority/operator relationships and technological best practise
To tackle front-end contamination through cross-party collaboration
To help deliver ADBA's contribution to WRAP's Organic Roadmap
To mobilise funding to enable plants to install technologies to remove plastic contamination
Suggested deliverables:
Contribute to the WRAP Organics Roadmap obligations i.e., develop guidance for waste collection operators maintaining quality for commercial food waste collections
Communication of any relevant developments in scientific understanding of plastics
Publication of an ADBA position on compostable and biodegradable packaging (e.g., in line with the Plastic Planet report and requirements under the WRAP Organics Roadmap)
Development of a repertoire of best-practise case studies where operators, businesses, local authorities, and waste producers have worked together to drive best-practise
Submit a proposal to BSI for the development of a digestible standard
Small On-Farm AD working group
Strategy segments: Policy, commercial and technology
Description: The potential of the on-farm AD industry is substantial, with over 90Mt of manures and slurries and a potential 3.6Mt of pre-farm gate crop-residues available to send to AD. In doing so, significant amounts of methane can be abated while producing renewable energy to be used both on and off-grid. Despite this potential, there are significant barriers to the development of small on-farm AD and the uptake remains relatively low due to the technological and economic barriers.
Suggested aims:
To develop a core set of policy asks to remove the barriers to taking up small scale on-farm AD
To address the technological gap on on-farm AD solutions
To facilitate a reduction in the capex and opex of small on-farm AD to make it more financially viable
Suggested deliverables:
Produce a set of policy asks to create more favourable conditions uptake of small-scale AD development
Submit a proposal to BSI for the establishment of a small-scale AD standard to ensure farmers have confidence in such technologies
Sustainable Bioenergy Crops working group
Description: The Committee on Climate Change's Sixth Carbon Budget report estimates that 260,000 hectares of agricultural land will need to shift support bioenergy production alongside carbon capture storage (CCS). Despite the recognised place for bioenergy crops in the CCC's Budget, concerns about bioenergy crops remain at the fore, and can be a barrier to industry development. The food versus fuel debate is a contentious, yet important one given the impending food crisis, as are the impacts of poor land-management on biodiversity.
Suggested aims:
To determine what a "sustainable bioenergy crop" looks like
Updating guidance and informing the industry and public on what constitutes sustainable bioenergy
Address the food versus fuel debate
Address Defra's concerns on unsustainable bioenergy crops farming practices
Suggested deliverables:
Update the Good Crop Guide
Create position paper on ADBA's support for sustainable bioenergy crops
Collate a central repository for evidence on sustainable bioenergy crops
Develop the figures on what could be considered a suitable volume of energy crops
Wastewater working group
Strategy segments: Policy and commercial
Description: The wastewater sector spearheaded the development of AD in the UK, and it remains a significantly strong part of the sector. While uptake of AD is strong across the sector, there are a number of regulatory developments – namely driven by the EA and Ofwat – in progress that aim to shake-up the market.  This working group seeks to strengthen the collective voice of the industry while opening the dialogue between water companies and third parties.
Suggested aims:
To create an open dialogue between water companies and the wider AD industry at a time where the regulator is trying to develop the sector
To discuss Ofwat's plans to introduce bid assessment frameworks and co-ordinate industry responses to water and sewage companies' BAF consultations
To provide feed-in to ADBA's response to relevant consultations
Suggested deliverables:
To develop an 'ideal' template standard for a bid assessment framework agreed between the water industry and potential third parties
To facilitate a coordinated response to the introduction of Bidding Assessment Frameworks by providing water companies the opportunity to engage directly with interested AD community members by presenting their BAF consultations
Questions? Contact joanna.goad@adbioresources.org
Interested in joining? Fill-in the form below
[/vc_column_text][/vc_tta_section]
Are you looking to secure finance for your AD project?
If so then ADBA's finance partners offer financial solutions for every area of your planned AD plant. If you think these services could benefit you then fill in the contact form below today for a free consultation.
Why AD is a good investment?
The anaerobic digestion industry is estimated to be worth over £5 billion over the next ten years, with rapid expansion caused by the need to meet government waste targets and because anaerobic digestion is seen as a central plank of energy policy to combat both climate change and energy security.
What services do our finance partners offer?
They can:
Provide an initial free, no obligation consultation
Evaluate your AD project and give you an early view of possibilities
Review your AD business plan and financials
Edit your plan for individual lenders needs
Support and communicate with you throughout the process
Review any formal funding offers
Help you to evaluate the mix of funding required
Match the most suitable lender to your particular AD project
Why use our finance partners?
Key benefits – they:
Can guide you towards successful funding
Understand the renewables industry and AD in particular
Can give you an insight into the funding sector's requirements
Understand the debt, equity and asset finance sectors
Are a great conduit to the right people
Can steer you towards specialist accountants, lawyers, or technical experts in AD
Can liaise with suppliers where required
Our finance partners maintain close relationships with all major international banks, equity investors and asset finance institutions therefore they are able to help steer projects towards the most suitable finance package. Most importantly, they've successfully arranged the funding of many renewable AD projects in the UK.
Our finance partners engage with their clients throughout the whole funding process. From reviewing your project plans through to your funding application to getting involved with your lawyers, accountants and technical advisers to discussing indicative and formal offers, legal documents or the make-up of the funding prior to draw-down – our finance partners support you in every stage of your funding process.
So whether your project is farm based, energy crop, or a merchant plant with food or industrial waste, then contact our finance partners for that initial discussion. If you have a good AD project and the skills or team to operate and manage the plant, we have the ability to find the investment required.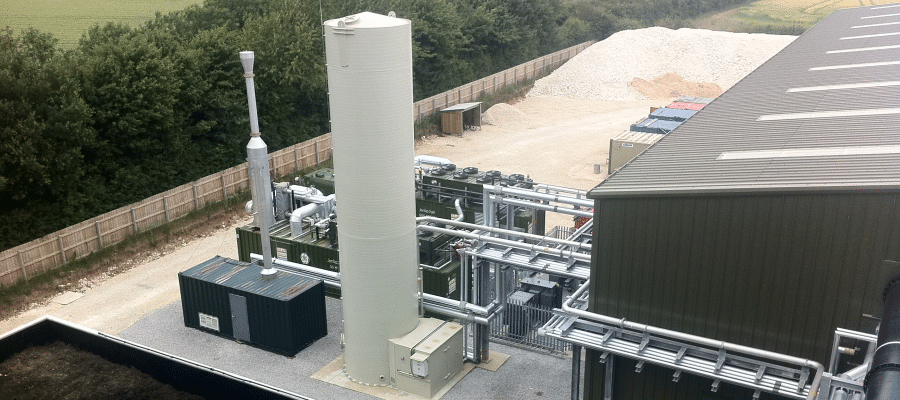 Their partners
Like ADBA, our finance partners are also committed to making the most of AD's potential, particularly its contribution to the UK's climate change, waste management and wider environmental objectives, working closely with BEIS, Defra, WRAP, DIT, EA and various funding mechanisms to help meet these objectives.
Enquire about our financial services
Why do you need a renewable energy insurance specialist?
The risks inherent to the AD sector can be challenging and have far-reaching consequences for stakeholders. The sharing of risks is critical for a project's success. But it can be hard to find insurance brokers who understand the risks you face, and who can arrange the right level of insurance required to protect your business.
Marsh Commercial's expertise and long standing presence in the AD and biogas industry has led them to being appointed as ADBA's insurance and risk management partner.
Why Marsh Commercial?
The anaerobic digestion industry is estimated to be worth in excess of £5 billion over the next decade, with rapid expansion caused by the need to meet government waste targets and because anaerobic digestion is seen as a central plank of energy policy to combat both climate change and energy security.
The Anaerobic Digestion & Bioresources Association is an Introducer Appointed Representative of Marsh Commercial Insurance Brokers Limited which is authorised and regulated by the Financial Conduct Authority (FCA). Not all products and services offered are regulated by the FCA.
How can Marsh Commercial's specialist renewables experts help you?
Insurance solutions for the entire supply chain, including cover for consultants and solicitors
Owner controlled insurance programme for the construction phase of your project including delay in start-up covering your advance loss of profits
Operational phase insurance including material damage, business interruption and mechanical breakdown
A range of liability insurances including Professional Indemnity, Employers, Public, Products and Environmental Liability
Directors and Offices (D&O) insurance
Fleet insurance
Protection of your goods during overseas transport
Protection of your cyber liabilities
Due diligence to ensure contractual and lenders insurance requirements are met
Mergers, acquisitions, divestitures and related run off
Financial security in respect of decommissioning
Complex claims negotiation and settlement arrangement provided by Marsh Commercial's technical claims experts
What do Marsh Commercial's clients say about them?
"Jelf [Marsh Commercial] provided us with a clear comparison of our insurance options. They worked with the insurers to make sure the ADCS certification delivered on the promises for financial savings in premium costs. The transition from introduction to policy implementation was smooth and the benefits of the new ADCS were delivered within a timely period. They worked with the ADCS certification body and insurers enabling a good deal to be arranged."
Thomas Minter, Director, Malaby Biogas Ltd
"Looking for and deciding upon Renewable Energy Insurance is usually a testing process, however, Jelf have provided a first rate service and I would be happy to recommend them. I am extremely happy with the policy Jelf [Marsh Commercial] has provided and was particularly impressed with the knowledge and expertise demonstrated in such a specific field."
Paul Bille, Director, Vale Green Energy Limited
Click here to find out more about Marsh Commercial and their renewable energy insurance expertise
Contact a Marsh Commercial renewable energy insurance expert
Innovation is vital to delivering a financially sustainable AD industry, bringing down the cost of deployment and increasing revenue from AD's co-products. It stands to advance all aspects of the AD industry, maximising its environmental benefits, while also investing in projects which support the collaboration of multi-disciplinary teams such as academia and industry.
Research Grants
ADBA maintains a database of research councils and institutions to fund research grants. We can give you key contacts and help you write your proposals.
Government Funding
ADBA recommends that the government creates a new fund specifically dedicated to research supporting AD and its production of biomethane and digestate. To encourage applied research, funding applications can target key aspects of the AD industry and be carried out simultaneously rather than sequentially to speed up success rates. This holds the potential to significantly improve the AD industry's financial model and the socio-economic benefits delivered. With sufficient support, innovation could eliminate the industry's dependence on government financing and move towards its full potential – treating all organic wastes and extracting maximum value from them. And ultimately, research and innovation are effective means of increasing value for money to the taxpayer.
Connecting Academia and Industry
Our team aims to speed up AD technology's transition from academia to industry – and with it, its commercial value. This enables operational plants to trial new solutions, without significant risk to their annual operations.
International Markets
Through innovation and development, the AD industry can bring technologies up to the technology-readiness-levels (TRLs) and converting knowledge into new commercial opportunities. For instance, once commercially viable, innovations may also be exported to international markets, strengthening the UK's place in the world – globally, AD is only achieving 2% of its full potential.
Realising the green premium for biomethane producers
Green Gas Trading Limited (GGT) offers both a secure, credible process for certifying biomethane and a platform to facilitate the trading of certificates to maximise the value of this ultra low carbon fuel, at a market determined price.
The Biomethane Certification Scheme (BMCS) certifies biomethane whether it is injected into the gas grid, liquefied or compressed.
How does it work?
The Biomethane Certification Scheme issues Biomethane Certificates (BMCs) that also called green gas certificates and RGGOs in the market. The BMCS registers certificates with GGT in the name of the producer. The BMCs represent the green (or 'bio') element of the biomethane produced rather than the physical gas and, critically, do not follow the contractual flows of the physical gas, which is transacted separately. By divorcing the green element from the physical gas, both products can be traded/sold independently allowing the producer to obtain the highest value for both the physical gas and the 'green credentials' of this premium product.
Scheme Information
The certificate market can generate revenue and benefits for the producers, traders, and end-consumers. The GGT website provides information on the benefits BMCs provide to producers, consumers, and the UK as well as explaining the process for all parties.
The BMCS website, hosted by GGT provides:
a tendering page for buying and selling surplus certificates
a list of current producers, traders, and suppliers.
information on certificate use and Green Gas Trading's Biomethane Certification Scheme (BMCS)
member-only access for viewing quarterly reports and uploading tender
joining and scheme fees
example certificates
information for support with the Grexel registry
Contact Green Gas Trading
Green Gas Trading can be contacted through the GGT website or by directly emailing Grant Ashton at grant@greengastrading.co.uk.
[/vc_tta_tour][/vc_column][/vc_row]