MEMBER'S PRESS RELEASE: Biogen green energy plant awarded industry standard for fertiliser
Biogen's food waste recycling plant near St Asaph, Denbighshire has been awarded the PAS 110 specification for its biofertiliser derived from the recycling process.
The 22,500 tonne anaerobic digestion (AD) plant, the largest of its kind in Wales, recycles food waste from homes and businesses to generate renewable electricity for the national grid along with the biofertiliser.
The specification means the local community can be reassured that the nutrient rich biofertiliser is of consistent quality and fit for purpose, i.e. for spreading to farmland as a replacement for fossil fuel derived fertilisers.
The Waen plant is Biogen's fourth to achieve the industry certification; the company's Northamptonshire AD plant was awarded PAS 110 status in 2013; its plants in Bedfordshire and Gwyriad achieved the certification last year.
Julian O'Neill, CEO Biogen said:
It is excellent news that Waen has achieved the PAS110 standard.  This makes it 4 from 4 for our AD sites and confirms our position as the largest certified operator in the UK –  aside from Biogen's sites, only 21 others have  achieved the sought after certification.
Cllr David Smith, Denbighshire County Council and Lead Member for Public Realm added: 
We are absolutely delighted that the plant has managed to achieve the PAS 110 standard so quickly.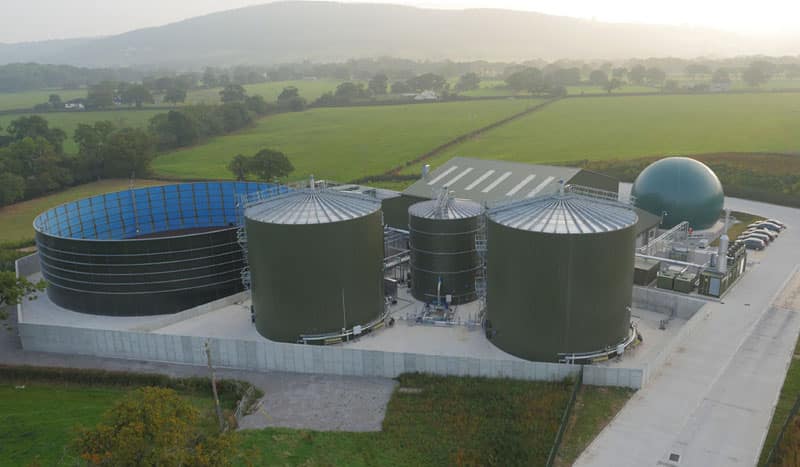 Picture caption: Waen anaerobic digestion plant near St Asaph.
Notes to Editors
Contact: Anita Smith, Marketing & Communications Manager    Tel: 07760 164400      anita.smith@biogen.co.uk                                                                                                                               
The Waen AD plant was designed, built and is run by Biogen on behalf of the North Wales Consortium of Denbighshire County Council, Conwy County Borough Council and Flintshire County Council.
Funding for the £7m project was provided by the Welsh Government, Denbighshire County Council, Conwy County Borough Council and Flintshire County Council, Iona Capital and Biogen.
Biogen employs 80 people and is one of the UK's leading anaerobic digestion specialists, responsible for 19 AD plants across the UK to date.
Biogen has 4 other operational AD plants in Bedfordshire, Northamptonshire, Hertfordshire and Caernarfon.  A further 2 plants in Warwickshire and Rhondda Cynon Taf are due for commissioning in  2015.
For more information visit www.biogen.co.uk follow us on Twitter @BiogenAD