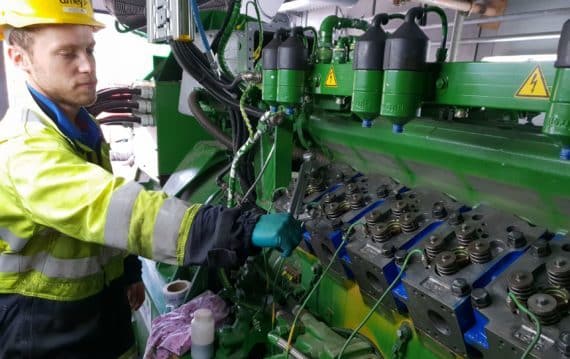 Member Press Release – New engine exchange programme saves AD operators £20K+ on servicing costs
New engine exchange programme saves AD operators £20K+ on servicing costs
Gen-C, Stand E201, UK AD & World Biogas Expo 2019
Designed to slash servicing costs and engine downtime, gas engine support specialist Gen-C, through its sister business LouwSon Energy Ltd, will launch a new biogas engine exchange programme at UK AD & World Biogas in July, aimed at AD operators facing a major overhaul. Instead of having their existing CHP engine serviced with a typical downtime of four weeks, engine owners can now exchange their equipment for a fully serviced zero-hours engine within ONE week – and save up to 50% on the usual servicing costs. LouwSon Energy has invested in a fleet of used zero-hours engines which they are offering with flexible ongoing service options – up to half the price of expensive locked-in contracts – plus smart upgrades such as open access control panels.
Once a biogas engine reaches 48,000 hours of operation, a major overhaul to take it back to 'zero hours' is usually required to keep it running smoothly. During this time, the operator is often without an engine for up to a month which, for a 1 MW plant, means a potential loss in revenue of up to £2,500 per day in export tariffs.
The LouwSon fleet of service exchange engines contains all popular MWM and Jenbacher models. And thanks to its global network, sourcing a model not currently in stock is never an issue for less common engine models. When operators reach the 48,000-hour mark, they can contact LouwSon Energy and request a like-for-like engine exchange, complete with a one-year warranty. This approach cuts downtime by 75% as it takes just one week for the new engine to be fitted, saving the average plant operator in excess of £20,000.
As exclusive UK stockist for Motortech, RS Motor and Sandfirden, LouwSon's sister firm Gen-C can offer a similarly flexible approach to regular servicing. Their on-call team of UK and European engineers plus 24/7 telephone support means they can handle any engine-related request. Gen-C can also fit the latest smart solutions such as open access control panels, giving plant managers the freedom to remotely control their own operations.
"Many AD operators are locked into lengthy and expensive engine service contracts, paying around £8,000 each month," says James Thompson, Gen-C's Managing Director. "On top of this, they are paying extra for E50 servicing every 12,000 hours, and even more for the major overhaul required at 48,000 hours. They can also wait days for an engineer to arrive if there is a problem with their engine, as the closed control panels common with most service contracts means their engines are unable to be accessed remotely. And if the problem turns out to be gas-related, then they are not even covered under their service contract."
James continues: "We think AD operators tied into lengthy contracts are getting a bad deal, and would be delighted to discuss with UK AD & World Biogas visitors how we can offer a more flexible, and far less expensive, solution – in fact, we're confident our ad-hoc prices will work out significantly less than those charged by contract service providers."
To find out how Gen-C's flexible approach to gas engine servicing can cut your bills, visit Stand E201 at the UK AD & World Biogas Expo at the NEC, Birmingham on 3rd-4th July 2019.
=== END ===
Notes to Editors
Press release issued for Gen-C by GloHouse Media
Bev Small              T +44 (0) 7901 841 491      E bev.small@glohouse.co.uk  
Kate O'Reilly         T +44 (0) 7894 039 609      E kate.oreilly@glohouse.co.uk
Kirsty Sharpe       T +44 (0) 1920 821 873      E kirsty.sharpe@glohouse.co.uk
About Gen-C
Gen-C is a gas engine spare parts and support company for leading brands MWM, MAN and Jenbacher, and the exclusive UK distributor for Motortech, RS Motor and Sandfirden. Gen-C offers genuine parts, systems and upgrades for gas engines. Specialising in biogas from anaerobic digestion, its extensive product range is backed up with superior knowledge and technical support.
Enquiries to:
Heidi Dakin, Office Manager
Todwick Road Industrial Estate Unit 8, Bookers Way, Dinnington, Sheffield, S25 3SH
T:            +44(0)1709 718 000
E:            heidi.dakin@gen-c.co.uk 
W:          www.gen-c.co.uk