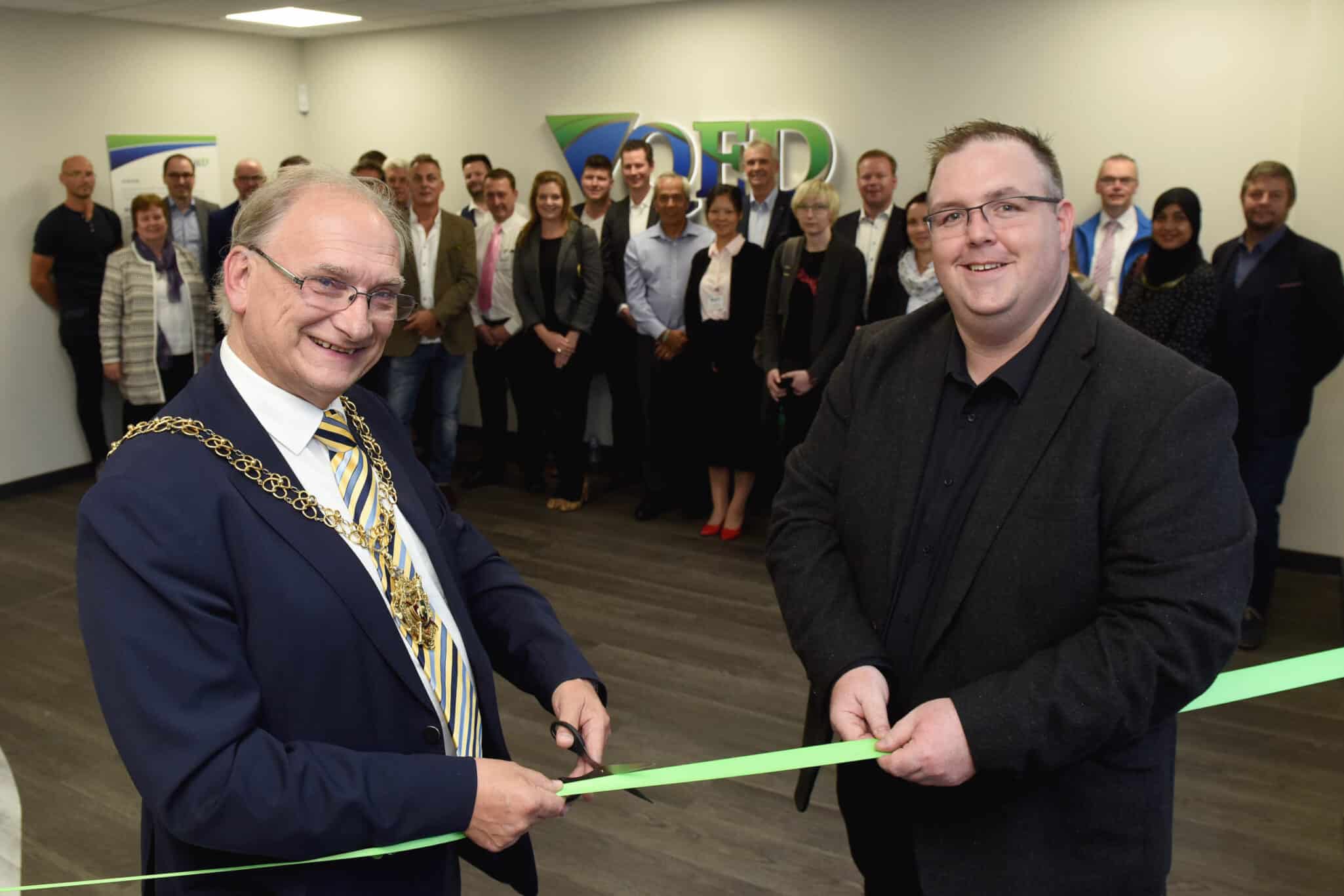 MEMBER'S PRESS RELEASE: QED Environmental Systems relocates to state-of-the-art facility in Coventry
There were three cheers at QED Environmental Systems this September as the company officially opened doors to its brand-new facility in Cyan Park Coventry.
QED welcomed special guests including the Lord Mayor of Coventry, Councillor John Blundell and representatives from the brand's distributor and supplier network across the world including those in the Americas, Europe, South Africa and China.
The new site will now serve as the international headquarters for QED Environmental Systems, delivering to Europe and a burgeoning Asian and Middle Eastern market. The 25,000 sq. ft. facility is brand-new and is now home to over 50 employees. It boasts a newly designed open plan office, kitted out with state-of-the-art equipment including an ISO:17025 calibration laboratory to support the gas instrumentation business. The new premises also offer employees with ample space to conduct one-to-one product training and seminars on a whole host of topics. 
Councillor John Blundell, said:
QED's success story is nothing short of spectacular. The company has grown from strength to strength and is evidenced by this state-of-the-art facility and its aspiration to be a hub of advanced environmental equipment not just in the UK but internationally as well. We welcome QED's presence to Coventry and have no doubt that you will continue to grow strong over the coming months.
Dean Kavanagh, Managing Director at QED took visitors through the strategy and thinking behind the layout and architecture of the building. Building on the brand's ethos to break barriers and innovate new technology, the new offices are set to encourage creative thinking and enhanced team spirit.
Dean said:
We are very fortunate to have found such a convenient and well served space. Coventry's rich manufacturing heritage and popularity both in terms of culture and skill make it the perfect location to execute our vision as a world class environmental technology business. Our new location and enhanced operational facilities will help us grow and develop within an ever-changing industry landscape and we could not be more excited.

 

I must commend the hard work of the entire team here at QED. We have worked together to ensure a seamless transition for our network or suppliers and customers and am confident that we will continue to go above and beyond in our service to them in the future.
The opening of the building followed a two-day conference that provided the brand's distributor network with master classes on the latest innovation in groundwater, soil sampling and landfill monitoring techniques. An interactive panel discussion was carried out and served as an opportunity to discuss the varying dynamics of the biomethane and landfill industries across the world.
Also showing her support was Director of AB-EN Environment and Energy – Avril Banks who provided visitors with some useful insights into the importance of monitoring gases in any AD (Anaerobic Digestion) biogas and biomethane plants. Senior Vice President and hydrogeologist at QED, David Kaminski provided attendees with details on the brand's latest innovations and its contributions to the industry over the last few years.
For further information on QED's range of products, please visit our website or call +44 (0)333 800 0088.
-ENDS-
Media information:
For further information, please contact Sarah Taylor on 01676 526568 or Aamina Mohamed on 01676 526882
Notes to editors:
About QED Environmental Systems, Inc.
QED Environmental Systems, a subsidiary of Graco Inc., is the leading international supplier of pumping systems for groundwater sampling, remediation and landfill liquids as well as gas management applications into industrial, environmental and renewable energy markets.
QED supports its customers around the globe through the industry's most experienced network of local technical sales specialists backed by an in-house technical sales and customer support team dedicated to providing expert help and quick response.
In addition to its own groundwater and liquid control products, QED supplies a range of internationally recognised products including Geotech portable and fixed gas analysers, Landtec portable fixed gas products, En Novative Technologies soil sampling products and Viasensor CO2 gas monitoring products.
Together, these products serve a global industry for a wide range of environmental applications, including groundwater sampling, groundwater remediation pumping, landfill leachate and condensate pumping, landfill gas collection and control, landfill and biogas analysis, air stripping and VOC removal, and wireless data acquisition.
QED Environmental Systems' international headquarters are located in Coventry, United Kingdom and headquarters are based in Dexter, MI. QED serves customers from support centres in Michigan, California and England.
For more information, call +44 (0)333 800 0088 or contact us at sales@qedenv.co.uk or visit www.qedenv.com