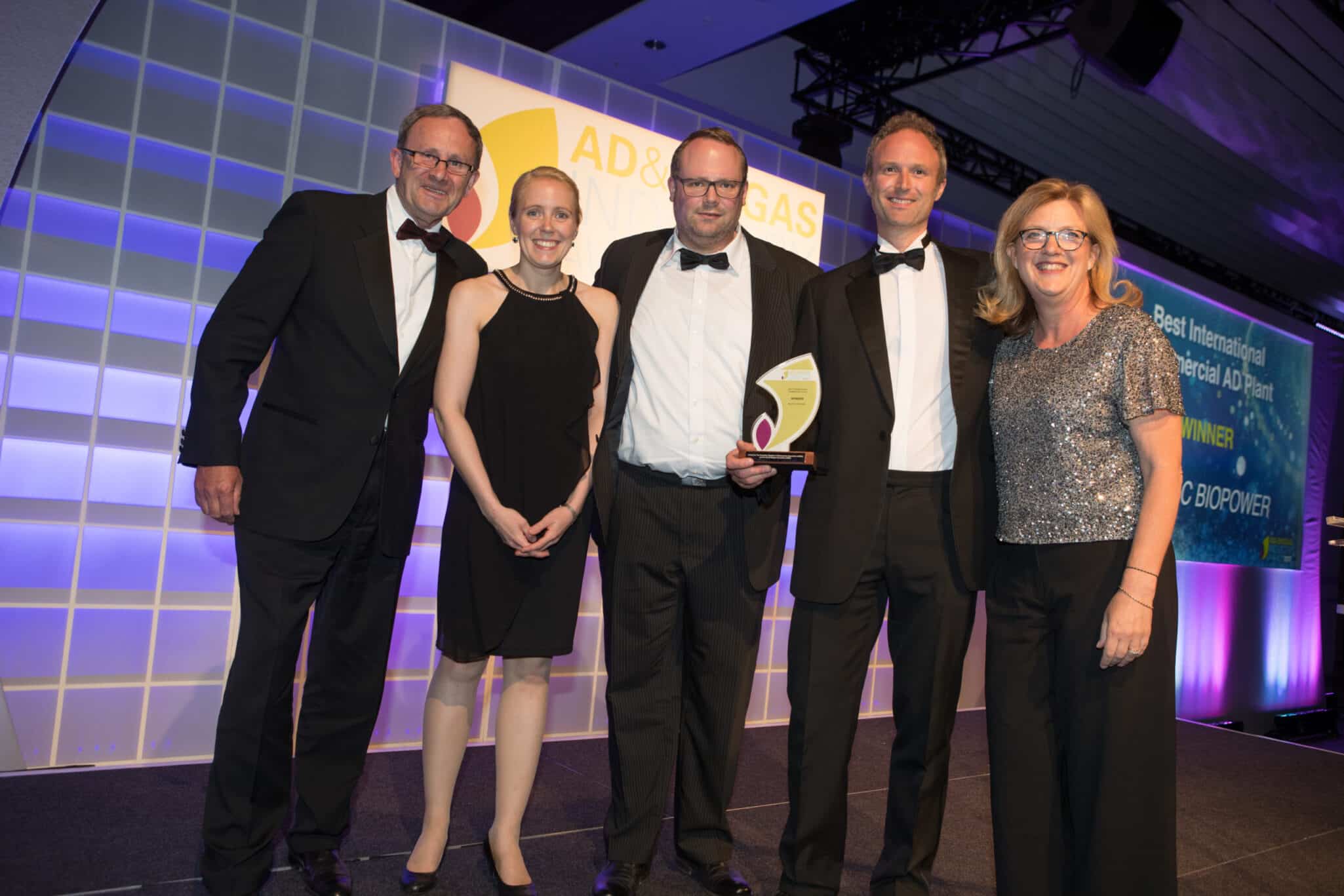 MEMBER'S PRESS RELEASE: WELTEC BIOPOWER wins two AD & Biogas Industry Awards
On 5 July 2017, WELTEC BIOPOWER received the renowned AD & Biogas Industry Award in two categories from the UK Anaerobic Digestion & Bioresources Association (ADBA) at UK AD & Biogas and World Biogas Expo 2017 in Birmingham, UK. An independent expert jury nominated the German biogas plant manufacturer in the category 'Best international agricultural project' in recognition of its 800-kW plant in Colombia. The award "Best international commercial plant" was given to WELTEC BIOPOWER for its 1-megawatt-plant in Melbourne, Australia.
ADBA also organised the gala night at which the winners of the various categories were announced and received their awards. This was already the sixth time that the renowned industry awards for outstanding projects, products and services from the biogas industry were conferred.
WELTEC BIOPOWER was honoured and pleased to receive two of the AD & Biogas Industry Awards. Kevin Monson, Sales Manager at WELTEC, said:
Both projects had their own special challenges and were already very demanding in planning. Therefore, we are delighted that both plants not only work successfully, but have now also been awarded these prestigious awards. The awards encourage our entire team to continue to develop smart and flexible solutions for our customers.
The construction of the AD plant for Colombia's largest egg producer took place under consideration of the high quality and hygiene requirements of the South American agricultural industry. This was one of the main reasons why investor Juan Felipe Montoya Muñoz had opted for stainless steel tanks from WELTEC BIOPOWER.
Montoya Muñoz owns several poultry farms in Colombia, at which about 3.5 million eggs are produced every day. As the process yields large amounts of dry chicken manure and process water, the 800-kW biogas plant can be operated without using any other substrates. Right from the planning phase, WELTEC BIOPOWER took the investor's expansion goals into account and planned and built this agricultural energy plant according to industrial standards.
The experience gained with industrial standards is also useful in other projects. No wonder that WELTEC BIOPOWER reached the final round of the AD & Biogas Industry Awards in the category 'Best international commercial plant'. WELTEC won the award with a 1-MW biogas plant in Melbourne, Australia. The basis for energy generation is 100 tonnes of organic waste a day. More than half of this amount will come from cafeterias and restaurants. The rest will comprise fats and oils, brewery and dairy leftovers, fruit and vegetable waste and sludge that will be pumped from the adjacent wastewater treatment plant. The operator Yarra Valley Water is one of Australia's largest water supply and wastewater disposal enterprises and is now able to satisfy its energy needs at the Aurora site from biogas. Yarra Valley Water can also feed surplus electricity into the public grid.
The objective of the AD & Biogas Industry Awards is to draw attention to such intelligent plant concepts. ADBA Chief Executive Charlotte Morton said:
The dedication [of these companies] to enhancing our industry's reputation and performance is testament to the innovative and entrepreneurial spirit that has built the AD industry.
In the opinion of World Biogas Association President David Newman, the award winners and the companies that have been shortlisted "serve as a shining example of how biogas can help to meet the UN Sustainable Development Goals".